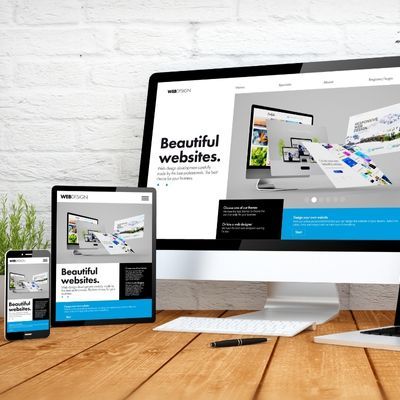 Web Designers
Website Design Companies in Chandler, AZ
Welcome to the "Web Design Companies in Chandler" section of the Chandler Business Directory. This dynamic resource encompasses some of the most impressive, forward-thinking, and professional web design companies located within Chandler. Here, each…
More
Website Design Companies in Chandler, AZ
Welcome to the "Web Design Companies in Chandler" section of the Chandler Business Directory. This dynamic resource encompasses some of the most impressive, forward-thinking, and professional web design companies located within Chandler. Here, each business listing offers a promise of creativity, novelty, and professionalism, displaying a robust portfolio of compelling website design ideas, each more visually compelling and unique than the last.
Choose your website builder
If you're on a quest to find a professional web design firm to solidify your brand's online presence, your search ends here. The businesses listed in our directory are not merely competent, but they excel in their craft. They have an impressive history of developing web pages that strike the perfect balance between aesthetic appeal and user interface. Their prowess lies in their understanding of the nuances of a responsive web design, ensuring a seamless and engaging experience for site visitors across a myriad of mobile devices.
Building a Beautiful Website for Your Business
The web design firms listed here don't just construct a website; they create an entire digital marketplace for your business. Equipped with an extensive knowledge of website templates and ecommerce website design, they are capable of delivering a site that is both visually attractive and highly effective. Coupled with their expertise in search engine optimization, they guarantee that your business website will secure high rankings on various search engines. They appreciate the importance of a sound site architecture, and they design your web pages to maximize user convenience and efficiency.
Best Website Designs
Within this comprehensive directory, you'll find an abundance of inspiration, from the best website designs to innovative website design ideas. You'll come across companies proficient in creating an online store for your business, understanding the intricacies of ecommerce website design. They understand that every business is unique, and thus, they personalize their services to match your specific needs and expectations.
Some of Our Top Chandler Website Designers
We proudly feature top-notch web designers who understand the vital role of responsive web design in today's digital landscape. Whether it's a one-page layout or a more complex web page design, they demonstrate a thorough understanding of visual design, website templates, and built-in features. Their goal is to create websites that stand out in their respective industries, offering unique usability elements that enhance site visitors' experiences.
Website Design Ideas
In this expansive directory, we offer a wealth of design inspiration. From innovative website designs to unique website templates, these web design companies leverage a creative blend of digital design elements to offer inspiring website design ideas. They specialize in creating a visually appealing and engaging experience for your website visitors. From the effective use of white space to atypical site architecture, these firms know how to strike a balance between aesthetics and usability.
Web Design Factors that Impact Your Website Conversion Rate
The Chandler web design companies listed here know how to leverage search engine optimization, landing page design, and website traffic strategies to improve your website conversion rate. They understand that encouraging visitors to interact with your website involves more than just attractive visuals. They employ a comprehensive approach, which includes up-to-date marketing strategies, keyword research, and the design of relevant landing pages.
Social Media Matters
In the modern digital era, your website design isn't the only thing that matters. These firms also understand the importance of social media as part of your overall business model and marketing tools. They know how to integrate your site design with your social media presence, creating a cohesive theme across platforms.
Can I use my own images in my design?
Absolutely! The web design companies in our directory encourage the use of your own images in your design process. They understand the value of incorporating high-quality visuals and personal brand identity into your web page design. They also offer guidance on how to choose relevant images that would appeal to your site visitors and align with your brand's image.
Choose Your Website Builder
This section also includes an array of website builder options. Whether you want to create your own website or prefer to hire a professional, you'll find the tools and services you need here. From user-friendly design tools to professional web design agencies, our directory offers a range of options to suit your needs and budget.
Through this directory, we aim to connect businesses with the best web design companies in Chandler, AZ. Whether you need a new website, want to redesign an existing one, or simply need some design inspiration, we've got you covered. Explore the directory to find the best fit for your business and create a website that truly represents your brand.
Who Needs a Professionally Designed Website?
Any business, regardless of size or industry, can benefit from a professionally designed website. The Chandler web design companies listed in our directory offer services that are not just limited to website design. They are equipped to handle web development, branding, search engine optimization, and other digital marketing strategies. If you need an ecommerce website for your online store, a simple landing page, or a comprehensive website with several web pages, you'll find a suitable partner in our directory.
Chandler Website Design & Development Companies
The web design companies in our directory are not just skilled in creating beautiful websites. They also specialize in web development. From ensuring your website is accessible across mobile devices through responsive design to implementing effective search engine optimization strategies, these firms are equipped to help you increase your website traffic and attract more site visitors.
Best Website Designs
Our directory is filled with a wide range of website designs, from the simplest to the most complex. Whether you're looking for the best website for an online store or need design ideas for a unique website, you'll find the inspiration you need here. These companies understand the importance of visual presentation, interactive backgrounds, and easy-to-read content, all critical elements for creating a compelling and effective website.
Website Design by Chandler Web Designers
Each website design in our directory is the result of the meticulous work of some of Chandler's best web designers. These designers use their creativity and technical skills to create visually appealing and functional websites. They understand the importance of designing a website that not only looks good but also meets the needs of your site visitors and encourages them to interact with your website.
Design Agency
In addition to freelance web designers, our directory also includes professional web design agencies. These agencies have a team of experts who work together to deliver a complete website solution, from initial design to final launch. They can provide a variety of services, including brand identity creation, web page design, and search engine optimization.
Website Design Ideas
Our directory is an excellent resource for finding design ideas for your website. The Chandler web design companies listed here offer a variety of design elements, from creative typography to high-quality visuals in video format, that can give your website a unique and appealing look. Explore the directory to find inspiration for your website design, or reach out to one of the listed companies to discuss your specific needs.
By using our directory, you'll have the resources to create a website that not only looks good but also functions well, is easy to navigate, and effectively communicates your brand's message. Whether you're looking to design your own website or hire a professional, our directory is the perfect place to start your search.
Why Choose a Chandler Website design Company
Website design and web design are fundamental aspects of a business's digital presence. Whether it's creating a brand new website from scratch or revamping an existing one, web design plays a critical role in conveying your brand message, attracting potential customers, and retaining existing ones. The Chandler web design companies listed in our directory offer cutting-edge website design and web design services that can provide your business with an impressive online presence.
Here are 10 compelling reasons to hire Chandler web design companies:
Expertise in Website Design: Chandler web design companies boast a team of skilled professionals with in-depth knowledge and experience in website design, capable of creating visually stunning and highly functional websites.

Innovative Web Design: These firms stay abreast of the latest web design trends and technologies, ensuring that your website has a modern, up-to-date design that attracts and retains visitors.

Customized Website Design Services: Chandler web design companies understand that every business is unique, and they offer personalized website design services tailored to your specific needs and goals.

Responsive Web Design: These companies specialize in responsive web design, ensuring that your website provides a seamless experience across all devices, from desktops to mobile phones.

SEO-Integrated Website Design: Chandler web design firms integrate search engine optimization into their website design process, helping your site achieve higher rankings in search engine results.

Ecommerce Web Design: If you're looking to start an online store, these firms offer specialized ecommerce website design services to make your online store user-friendly and attractive.

Website Design Consultation: If you're unsure about what you want or need in a website, these firms provide consultations to help you figure out the best website design for your business.

Holistic Web Design Approach: These companies take a holistic approach to web design, considering everything from user interface and user experience to site speed and site architecture in their designs.

Web Design Training: If you want to maintain your website on your own after it's built, some Chandler web design companies offer training on how to update and manage your website.

Post-Launch Web Design Support: Chandler web design firms are there for you even after your website is launched, offering support and maintenance services to ensure your website stays up-to-date and functional.
Discover the Best in Chandler Web Design
The Chandler Business Directory is your ultimate resource for the top web design companies in Chandler, AZ. Our exhaustive directory showcases the finest professionals in the field, each committed to enhancing your online presence with exceptional website design. They harness the power of design to create engaging, functional, and visually stunning websites that tell your brand's story while attracting and retaining customers.
Whether you're a small local business, a burgeoning start-up, or a well-established company, the web design firms in our directory have the skills, expertise, and creative flair to deliver a website that speaks volumes about your business. They understand the ever-evolving dynamics of the digital landscape and are adept at delivering both timeless and trend-setting designs.
Remember, your website is more than just a digital placeholder. It's your business's home in the online world, and it can be one of your most potent marketing tools. By hiring a Chandler web design company, you are investing in a compelling online presence that can drive your business growth.
Explore our directory today and find the perfect web design partner for your unique needs. Leverage their expertise to create a website that is not just aesthetically pleasing but also technically sound, user-friendly, and optimized for search engines. Transform your digital presence with Chandler's finest web design services, and elevate your business to new heights of success.
Less